Risk Consultants
Risk International is your advocate in the complex and costly insurance industry. As a leading independent advisor of risk management, commercial insurance, and employee benefits services, we specialize in providing data-driven business solutions. Our dedicated team of Risk Consultants is committed to offering personalized guidance tailored to your specific needs. With our independent client-centric approach, we are exclusively dedicated to our clients, offering unbiased guidance in navigating the evolving insurance market. Our team of experts customizes cost-effective insurance programs to match your unique requirements.
Not Brokers: Risk International is detached from ALL conflicts of interest.
Expertise: We help clients navigate the many suppliers in the insurance space.
Disciplined Approach: Improving the cost and quality of insurance and risk management programs.
Critical Advantage: Through a reduced total cost of risk and increased profitability, we give clients the peace of mind that comes with a more stable and predictable risk management model.
Our most unique differentiator is our independence, enabling our Risk Consultants to advocate for you without any conflict of interest. We are not appointed by carriers, and we are not insurance brokers who are incentivized by the products they sell. We use proven strategies to collaboratively construct insurance programs that make sense and create value for your business.
Our focus is on outcomes,
not products.
We simplify and help you navigate a complex system.
Your business goals
are our top priority.
Risk International is a global service provider delivering solutions to a diverse range of clients from a variety of industries and backgrounds. Our team is dedicated to finding unique solutions for each client's specific needs, whether they are a public company, private equity firm, or a private employer. We understand that the insurance industry can be complex and confusing, which is why we are here to help guide you to find the best possible solutions for your business.
Where You Sit With
Risk International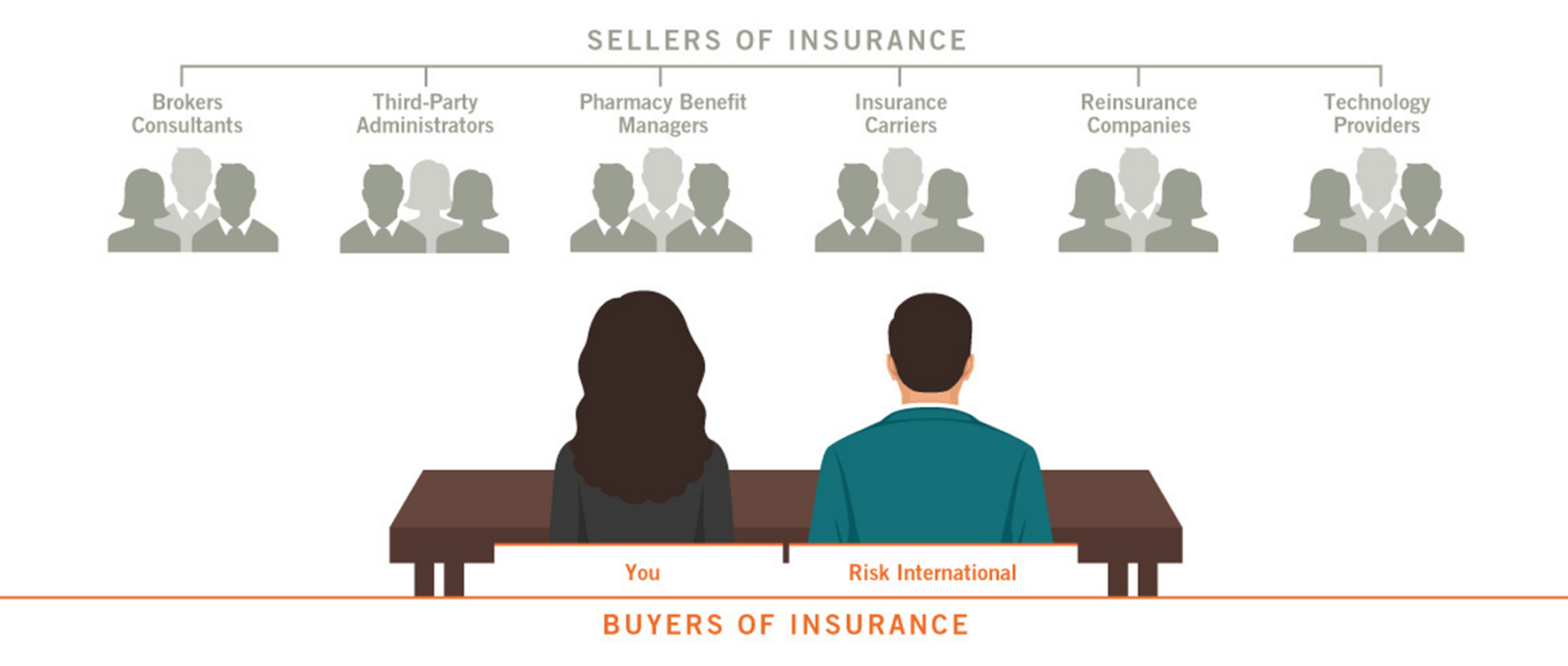 Helping clients reduce risk and manage its related costs. As your Risk Consultant, we provide a unique and effective business model, ensuring predictable, repeatable risk management success.
Benefits Advisory
REDUCE EMPLOYEE BENEFITS COSTS
Providing expert guidance using our proven methodologies to control employee benefits costs without negative consequences for the employer or the employee. We serve as fiduciary advisors, assuming the highest duty of care to ensure full alignment with our clients, placing your interests above all else. This is one of the many things that differentiates us from brokers.
Claims Services
PREVENT LOSS AND MAXIMIZE RECOVERY
Delivering a business solution to a legal problem. Founded on claims recovery services, we have decades of experience mitigating risk and maximizing recovery when losses occur. That includes short-tail claims, toxic tort long-tail claims, and complex environmental claims.
Analyzing the true costs associated with risk management and insurance programs in a way that is easy to understand. We take the guesswork out of what can often be a very complicated process.
Frequently
Asked Questions
We are not looking to take the place of your insurance broker. Insurance brokers focus on insurance policy placement and are compensated based on the insurance you purchase for your company. Our team will conduct a comprehensive assessment of all your insurance policies to determine if they are adequate and cost-effective. Then we advise you on the best way to restructure your policies to capture cost savings. We are experienced, and ready to face both complex risk management and employee benefits challenges. Our fee-for-service compensation structure eliminates conflict of interest. We are on your side.
Risk Solutions: Financial Resilience Through Strategic Risk Management Challenge In the competitive landscape of the nutritional supplements industry, a private equity-owned company struggled with a pivotal challenge, its Total...